Applying Remote Patient Monitoring to Surgery Prep and Recovery, Oncology and Women's Health
On-Demand Presentation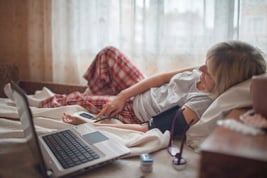 Health systems are accelerating strategies to navigate a challenging economic environment, turning to digital health capabilities to drive growth and reduce staff and physician burnout. The best solutions do this and more, delivering greater patient access, experience, quality of care, and affordability.

Remote monitoring technology enables healthcare professionals to seamlessly collect and analyze patient data outside traditional clinical environments, intervening as needed to support patient health. Remote monitoring has been highly successful in managing chronic care, and providers are now looking to scale and sustainably leverage remote monitoring for other use cases, such as pre- and post-surgery, oncology, and women's health.

Join us to learn about the latest trends in remote monitoring and how to extend its benefits beyond chronic conditions to more patients - all while using fewer staff resources.
If you're building a business case for remote monitoring that seamlessly transitions care from hospital to home, don't miss this opportunity to hear how to effectively navigate the remote monitoring landscape.
During the webinar you'll learn how to:

Identify patient populations to scale remote monitoring beyond chronic care

Know what good looks like when evaluating solutions

Build the business case and secure clinical staff buy-in

Orchestrate system-wide integration and implementation to streamline clinical workflows and efficiencies


To register for the AVIA Health webinar please complete the form today.

If you cannot join us live, still register and you will receive an on-demand link.