Improve patients' outcomes with AI-powered remote monitoring devices and increase revenue for your practice

On-Demand Webinar:

Do you need help to continuously monitor your Medicare patients' health? Are you interested in improving patient care, generating additional revenue, and keeping your office running efficiently?
Meet the only remote patient monitoring solution to utilize artificial intelligence (AI) to attain dramatically higher patient adherence and clinically meaningful outcomes. 100Plus remote patient Monitoring (RPM) provides measurable improvements in patient health outcomes across treated conditions, including hypertension, obesity, and diabetes.

Mintu Turakhia, M.D., M.A.S., a cardiac electrophysiologist, outcomes researcher, clinical trialist, and consulting Head of Medical at 100Plus will present powerful RPM outcomes.
This webinar from MedCity News sponsored by 100Plus scheduled will explore these topics as well as your questions.
In addition you'll learn how to:
Improve patients' outcomes with AI-powered remote monitoring devices.
Drive revenue for your practice with RPM CPT codes.
Improve practitioner performance with credible data on patient progression.


Webinar Panel: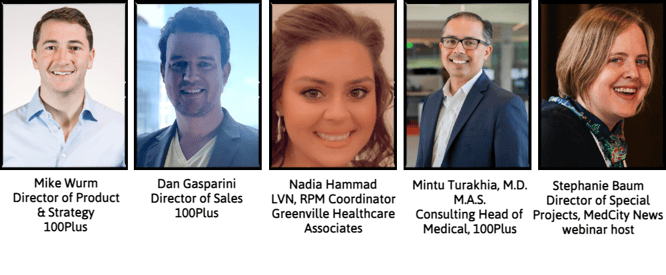 About 100Plus
100Plus is the fastest-growing RPM platform empowering doctors to manage their chronic patients remotely, proactively engage them to avoid expensive, episodic care, and drive a higher quality of life. The 100Plus medical devices are included as part of the remote patient monitoring service, which incurs no out-of-pocket cost for the majority of patients. When a patient receives a 100Plus medical device, it's fully configured and ready to use out of the box — no smartphone, app, Bluetooth, WiFi, or cellular plan required. The program can reduce episodic care and improves patient care by continuously monitoring high-risk senior patients.
By filling out this form you are opting in to receive communications from MedCity News and its partners.