Tips for Tailoring eConsent
for Optimal Patient Centricity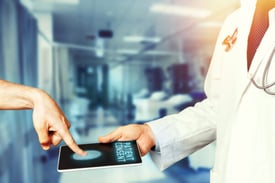 Currently, according to Tufts researchers, clinical trials in a variety of therapeutic areas experience patient dropout rates close to 20%, with the consent process being the number 1 factor contributing to this figure.

Additionally, according to Advarra, "35% of patients who dropped out of a study early reported that it was difficult to understand the Informed Consent Form".

Therefore, It is critical that the consent process be tailored to ensure that participants understand what's being asked of them and how their data will help further future disease treatment.

The Solution: eConsent
Why?
eConsent simplifies overly long and complex forms as it can be tailored to different audiences & have interactive, engaging elements.

Medable eConsent enables the enrollment of underrepresented and geographically diverse populations through remote consenting, something that has been shown to reduce screening timeline periods by 50%.
Download the white paper to learn how to optimise eConsent for maximum patient centricity.